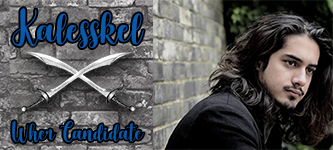 It was hard to believe they were already past the half way point in their training. Kalest had lengthened her name much to Kal's surprise and pleasure. Their bond had strengthened with their training and working more together he should have expected it, as the Wherlingmasters had mentioned it at one point. To have it actually happen however, was definitely a moment he wouldn't forget.
He was enjoying life as a Wherling and getting to know Kalest and all her uniqueness, not just because she was of a newly discovered species of Wher but because of who she was as an individual. He was also enjoying getting to know his fellow wherlings and Wherhandlers, those he would soon join in their patrols to learn the routes and routines it will soon be his responsibility to patrol once graduated.
A couple days ago he overheard some Wherhandlers speculating about the next Wher run it occurred to him he had bonded to a female Wher who will eventually Run. It also made him think about Dru and Drust and his past thoughts that his wher may be of the same type as Drust. During his next free time he sent one of his flits to see if Dru wanted to spend time together, perhaps walking the perimeter of the courtyard. He didn't want to intrude of Dru had other plans for her time off but if she was willing he hoped she would join him.
When the time came he headed out with Kalest, pleased it was a cloudless night so visibility was perfect for humans and not so bright to bother their Wher's sensitive eyes. Looking up at the night sky he admired the countless stars and wondered if any of them had people like him looking up at their own starlit sky wondering the same thing. It was a bit of a heady thought and he looked away and towards entrance to the Wher Tunnels. Kal knew he could have just waited for Dru in the common area but a part of him wanted to meet her out here in the open instead.
@Fawkes