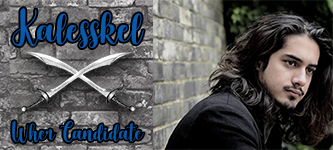 It was a challenge to adjust to being awake at 7pm instead of his usual 6am wake up time but after a couple Sevendays Kalesskel was getting the hang of it. He had done nightshift as a Belifex, often as punishment for imagined wrongs but it wasn't the same as consistently being up at night. Fortunately adapting was something Kalesskel was good at and he knew by the time a Wher had her next Run he will be well adjusted to a nocturnal life.
With the night's lessons done and the required physical training, Kalesskel had headed towards the practice dummies for those who wanted to practice their weapon skills. Half hour really wasn't much time to get the best workout and he didn't mind losing some free time continuing his usual exercises. On many nights he wasn't the only one but tonight he was on his own. There just wasn't anybody among the Candidates who was as skilled as he was with dual blades, in fact he hadn't met any at New Atricis who used dual blades. Many had skill in using a single blade or blade and shield but this was something Kalesskel was used to. He didn't face many who were his equal in swordsmanship anymore though he was quite certain there were plenty who could be his equal and better, he just hadn't had opportunity to meet them. He would only be interested in sparring with such for the challenge and chance to improve his own skill. It was always better to spar with somebody better otherwise how else can one know they are improving?
The steady sound of stout wood hitting the solid form of the practice dummies was all he heard for some time, even the chirps and flapping wings of Timor, one of his Starlizards who was flying about snatching insects out of the sky. Only when Kalesskel spotted, chest heaving from the workout, did he become aware of the night's sounds. Or more importantly the lack of certain kinds. Shifting both practice blades into one hand he grabbed his towel and wiped it over his face before turning his full attention on why the night didn't sound the way it should.
@Parker
ooc: hope this is a good opening for you, if not I can edit