ooc: Option 4 along with Locke. Shireth and Wraith will see what they can find from the air.
A part of I'ent wondered when he became less bothered about showing affection in public and Locke's teasing. It must have happened not long after he finally admitted to Locke about his feelings. Their relationship since then had been much different from friend and mentor and mentee but it was a direction I'ent was thrilled over. It had been a long time since he had ever cared for anybody, in fact it was his father who was the last person he truly cared for. Shireth was something altogether different than just somebody he cared for, she was his soul and Locke was now his heart and it made I'ent feel more complete than ever.
"I suppose we should help first then...then again large predators may lair in caves during the day so it'll be worth checking them out either way." I'ent grinned. He would prefer there was no large predator in any cave though found regardless of their intention to explore it.
I'ent glanced in the direction Locke had waved in and spotted the Candidate he had given a ride over. Glancing back at his lover I'ent wondered how Locke came to know him. A pang of jealousy ran through him as he could see Kalesskel was far more handsome than he was and certainly looked more confident than I'ent typically felt.
"I've met him...in fact I'm the one who brought him here. So how well do you know him?" I'ent asked, looking at Locke.
Shireth walked over to Wraith and nuzzled him affectionately, grateful he was eager to join her. In the time since he became her Mate she had gotten to know him quite well. It didn't bother her at all that he couldn't hear, in fact she found it a challenge to come up with ways to 'show' him any sounds she felt he should know about. For now she used touch to convey how glad she was he joined her.
<Lets fly overhead and look for clearings and wide beaches besides this one to see if large creatures are about, tracks and stuff. Maybe we can even find something new and you can bite it to see if it tastes good.>
Shireth had a feeling most of the Pearls would cruise around the island by sea but they couldn't fly over like dragons could. She and Wraith were small and more nimble and could get down low among the trees easier than the larger dragons and Pearls could barely move on land, as far as Shireth was concerned.
@Parker
---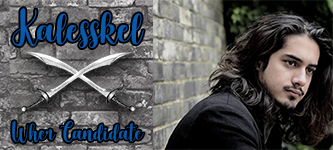 ooc: Option 5: Stand back and watch/take notes
Kalesskel had spotted Locke's arrival but seeing he was busy with the greenrider who had given him a ride in Kal had focused on deciding what task he would take on now that camp was set up. He longed to plunge into the jungle an explore but knew running off on his own wouldn't be a good idea. He decided he will attached himself to somebody who could benefit from his help the most.
Plenty of people were plunging right into the forest clearly eager to see what secrets the interior held and a part of him wanted to do the same. He held himself back however as he knew there were far more tasks to be had than just exploring the island's interior and looking for any threats. An unguarded camp could be in grave danger if this island was used by smugglers or worse. Looking around he spotted a young woman busy sketching away on some wax, her work interrupted when her hybrid landed on her shoulder. Kal wasn't close enough at this point to hear what the girl said to him after shooing him off. By the time he reached her the Sunstone was long gone.
"Did you find something interesting?" Kalesskel asked, glancing at the wax block she was working on and noting the flower with careful notes along side. He had no trouble identifying the 'model' for the drawing and thought she did a great job capturing the look of the flower. "That's a fantastic likeness...are you into botany?"
Tag: Angela
@Shaihulud