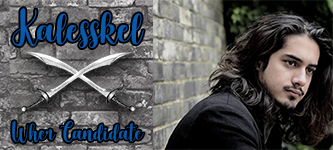 Kalesskel tilted his head slightly when Feraliss admitted he wasn't a great person up North. That statement could mean many things and until he learned more about who Feraliss was Kal wasn't in any position to judge him. Feraliss wouldn't fall under his jurisdiction even if the man admitted to being a criminal, especially since Kal resigned from the Legion prior to coming here. But a man could claim he wasn't a great person and still not have broken any laws. It was what Feraliss said next which put things in perspective. Till this moment Kal hadn't heard of any in the North who were Slavers and that was exactly what Feraliss was implying he had been.
"I see," he responded, studying the man while he digested what he knew for certain about the man before him. Given how brief their acquaintace was Kal knew he couldn't make any assumptions either way. A bad past didn't mean the man hadn't changed and he realy didn't know anything about the laws in the North other than what he heard second hand. "Well, one thing nobody can change is their past, what a man does with his life now and into the future, that is all we truly have control of and I have a feeling you are striving to walk a better path now and be a better man as well."
"Once we have come to know each other better I look forward to hearing more about you but for now I'm content to know you for who you are here." Kalesskel didn't get a vibe from the man as being deceitful or otherwise the sort of man Kal would strive to put behind bars to prevent harm to others. He liked to hope the Wher Candidatemaster was good enough a judge of character not to let those who would do evil into the ranks of Candidates.
@Ember